Chef's Corner with Isaac Riveria of Il Sole
Il Sole, located in West Hollywood, California, just steps away from the famous Sunset Plaza, is a hidden gem…especially when it comes to good Italian food. (Yes, it's nearly impossible to find good Italian food in LA!)
Chef Isaac tempted journeyPod wilth a spread of his amazing Italian cooking.  We tasted the zuppa con vongole, the pumpkin ravioli with sage, and the monkfish. But the one thing that will never be erased from our tongues is the Tagliolini con Tartufo. Just try it!
Before Chef Isaac brought out dessert (don't try the panna cotta unless you only ever want to eat his again. Once you've had Chef Isaac's "non-giggly" panna cotta, you'll never enjoy another's. We promise.)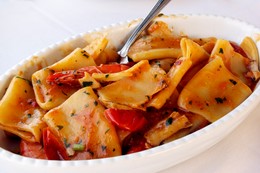 What three ingredients do you cook with most often?
My homemade meat rub, tomatoes, and cheese.
What is the most unique food you've tasted?
Horse carpaccio near the town of Bari in Italy. It's sweet, not gamey has the consistency of venison, and it's not chewy.
When you first enter a restaurant, what it is that you first notice?
I notice the ambiance. How cozy is it.
Where do you dine locally?
Osteria Angelini, Maestros, La Serata di Garibaldi
Chef Isaac, what is in your fridge at home?
Lots of veggies, venison, I keep it simple.
What is the most memorable meal you've cooked?
I cooked for Farrah Fawcett's 55th birthday party! She wanted spiny lobster and filet on the bone. There were about 1,000 people in a private backyard. I've also cooked for Brad Pitt and Al Pacino.